99: FCC & Ad Enforcement
To join

The A-List

,
email us TOD
AY for your
"free
membership":
thealistmag@gmail.com

Issue #99
OVERSEEN & OVERHEARD
TUNED OUT

...This news not only has us scratching our heads but a little miffed. After frequent outreach and analysis last year about the lack of a substantial Black talk radio forum on satellite radio,comes the news this week that the nation's leading provider of satellite radio,

XM Radio

, will expand the lineup on

The Power XM Channel 169

(already home to

Joe Madison

, the

Reverend Al Sharpton

and

Warren Ballantine

),and will bill itself as the only national 24-hour radio channel exclusively dedicated to African-American talk programming. But unfortunately, they went to the
usual talking heads, including

Tavis Smiley

. There will also be shows by DC pundit

Kojo Nnamdi

, author

Blanche Williams,

and the sports talk radio duo

The 2 Live Stews.

Between this development and Jesse Jackson's recent meeting with the FCC, it looks like change has come --but alas only
for the same players. As for

The A-List

, it's clear that all our ranting starting almost a year ago has been not only been read but heard. Thing is, they forgot to give us a call and invite us into the mix since we started the whole campaign in the first place. That'
s okay, y'all. We'll get ours.
PARTY POOPER
...What's a girl to do? All dressed up and no where to go. All of Hollywood seems to be is lamenting the fact that
Vanity Fair
has canceled its annual Academy Awards party. The hot-ticket bash was called off
since head honcho

Graydon Carter

thought there might still be some left over drag from the impending end of the writers strike.
Or maybe he was worried about Sean Young trying to crash the party again this year. Now just where will our
Ru
by Dee
go to cut a rug once she takes home that beautiful Oscar this year?
AD ENFORCEMENT

...Although the

FCC

adopted a rule last month that requires broadcasters at the time of license renewal to certify that their advertising sales contracts do not discriminate on the basis of race or gender, many minority media outlets are still saying that's not enough. Reps from the

American Association of Advertising Agencies, the American Advertising Federation

, and the

Association of National Advertisers

met recently with

FCC Commissioners Jonathan Adelstein

and

Robert McDowell

to
get some guarantees that the FCC will enforce these new rules that prohibit advertisers from adopting policies against advertising on Urban or Hispanic radio stations. The

National Association of Broadcasters Education Foundation, Minority Media Telecommunications Council,

and

Interep

were also on hand. No word yet on the outcom
e of the meeting and just how the FCC will punish those who don't follow this new mandate
.
FINAL VERDICT

...The jury has spoken on the new

Star Jones

show. After just five months on the air, Jones' self-titled show on

truTV

(formerly Court TV) has been canceled. While the former View co-host will stay on the network as a contributing legal expert on "In Session" trial coverage, it will be interesting to see what major move Jones makes next. Could a reality show be next on the docket?


WILL,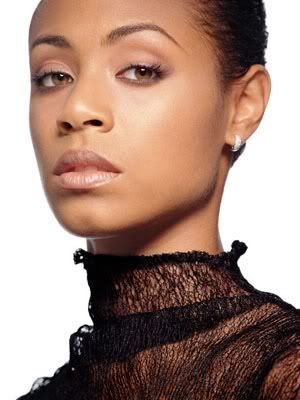 MAKE WAY

...

Jada Pinkett Smith

has beaten hubby Will Smith to the directorial punch. Her filmmaking debut,

The Human Contract

, according to the

Hollywood Reporter

, has just been picked up by

Lightning Entertainment

, which oversees domestic and international sales. Starring

Jason Clarke, Paz Vega

, Pinkett Smith,

Ted Danson, Joanna Cassidy

and

Idris
Elba

, the film, which was also written by Pinkett Smith, follows a corporate exec with an intriguing secret.


MOVE OVER JAY LENO?

...There's a new late night TV show in town. This one with an Urban flair. "

Ryan C
ameron Uncensored

" premiered Feb. 4th on

Starz InBlack

with a lineup that includes

Jermaine Dupri, LL Cool J, Ne-Yo, OutKast

.
Hosted by the WVEE radio jock and comedian,
the show is being described as featuring "coveted celebrity interviews and live performances...but nothing glorified; no house band, no media-friendly chit-chat…and no boundaries!" "It was important to create a show that's intelligent, comedic, controversial, honest and celebrity filled with guests from Hollywood to Hip-Hop," explains the show's executive producer

Jodi Gomes

of

Point 7 Entertainment

("Jamie Foxx's Laffapalooza"). Cameron says he's hoping to fill Arsenio Hall's shoes--something we've been waiting for---
but Cameron will have to make some very
loud noise to be hard by the masses. This 30-minute show out of Hotlanta
is slated only for once a week on Starz, which has about 15.5 million subscribers.
LAUGHS ONLINE

...Damon Wayans plans to soon launch

WayOutTV.com

, a site featuring videos produced by up-and-coming comedians. An interview with

The

LA Times,

Wayans explained he would handpick the comedians as well as help them write and produce their own content.

Tim Chang

, a principal at

Norwest Venture

partners, has been informally advising Wayans and may invest in WayOutTV. Sounds like Wayans isn't joking around with this venture.


HIP HOP HOLLYWOOD
GET OUT THOSE HIGH WATERS

...
The Internet is now officially flooded with Hip Hop digital ventures. We told you about a bunch last issue and now

Kanye West

is also throwing his hat into the Web. He's hooked up with

Prodege LLC

to launch his own search engine, searchwithkanyewest.com. Users who search with the new engine are rewarded with swag dollars to exchange for Kanye merchandise. Prodege LLC, which has previously done deals with Akon and Beyonce,
obviously feels it's a moneymaker. But other than a great merchandising idea, how is it any different than other search engines?


OLD SCHOOL IN THE HOUSE

...There's a new film in the works called

The Vapors

about the lives of Hip Hop veterans the

Juice Crew

, whose members included

Marley Marl, Biz Markie, Big Daddy Kane

and

Roxanne
Shante

. Kane, Marl and Shante are producing the $2-million flick. Newcomer

Furqaan Clover

will direct.

Clifton Powell

(playing Mr. Magic),

Keke Palmer

(Roxanne Shante),

Evan Ross

(MC Shan) and

Cuba Gooding, Jr.

(Marley Marl) have been cast. It's about time for a good Hip-Hop culture flick.


NEWS

HBO ARRIVES ONLINE


While most major television networks have already made much of their programming available free on the Internet, cable's most popular premium channel had not followed suit--until now. HBO is now slowly entering the Internet video arena. It just introduced HBO on Broadband to subscribers--but only in Green Bay and Milwaukee, Wis. HBO will later spread the free service slowly to other parts of the country. Users can access to about 400 hours of movies and original programming each month. "There are a lot of people, particularly young people, who are watching TV through the PC. We wanted to create a product for them," said Eric Kessler, a co-president of HBO in a press statement. Instead of using browser-based streaming video however, HBO's programming is watched in a separate computer application that downloads shows to the hard drive. The program is currently available only on Windows PCs; viewers cannot download content to portable devices; and the content expires four weeks after being downloaded.

SPOTTED
Isaiah Washington

hostin' the opening night gala of the

2008 Pan African Film Festival

at the

Director's Guild of America

in L.A.