89: Turks & Caicos Film Festival
***********************************************
African American Film Critics P
resent New Workshop
The African American Film Critics Association recently is offering film festival organizers an excellent new workshop that will provide great added value to new and veteran film makers. Called, "The Art of Critiquing Film," the workshop provides comprehensive insights covering the technical and creative elements filmmakers should consider before presenting their work to the press. For booking information, visit http://www.aafca.com/.
***********************************************

To subscribe to

The A-List

,
email: thealistmag@gmail.com.
We've always told you a new Hollywood had arrived, this past weekend's box office c
onfirms our foresight. Join us as we keep documenting the era. Welcome, la
dies and gentlemen,
to Issue #89.
OVERSEEN & OVERHEARD
IS BLACK THE NEW WHITE?
...
The talk of the town in many circles this week was

a recent
article by
veteran industry
journalist
Steven Zeitchik
declaring
that due to a variety of business successes coupled with

Tyler Perry's
W
hy Did I Get Married?
topping the box office last weekend (and beating out
such Hollywood golden boys as Clooney and Wahlberg)
that Black films are now officially "in fashion." This "discovery" is something Black Hollywood has been trying to convince the industry of for years and just further evidence that diversity raises profitab
ility. The sticking point may still be, however, this nonsense about viability overseas. How quickly some forget what prestigious international community gave Spike Lee its blessing early on before even mainstream US caught on (Cannes), and the undeniable point that it's all about the story rather than the level of melanin. Heck, if Stiller's "Dodgeball" could be paraded out overseas and tank (primarily because the rest of the world doesn't even play or have any knowledge of the game), The A-List thinks there should be more domestic and international light given to the appropriate "urban" flicks. 'Nuff said.
RETRO REEL

...Hot casting agent

Winsome Sinclair

tells us she's
currently casting
parts for the upcoming L

ee Daniels

(pictured) feature,

Push.
The
multicultural drama is based on
the bestselling book by Urban novelist

Sapphire
and takes a unique look

at life in the '80s

. And from the casting call it sounds like this will definitely not be your a stereotypical flick. Here's what they're looking for: very, very thin men
and women; overweig
ht women, men and children;
d
rag queens; transvestites; and African-American and Latino high school s
tudents. Judging from the films Daniels has produced (

The Woodsman, Monster's Ball, Shadowboxer),

we're sure we'll be in for an eye-popping ride with the indie Push when it
premieres in 2008.


STYLE & S
UBSTANCE?
...
Fashion stylists to the stars Terrell Jones and Dhalimu Robinson, along with executive producers One Source Media Group and Paige Inc.,
are the powers behind a new reality program entitled
"Style Aficionados," which will launch on Turner Network
's
newest media content website, VOLUME.com.
The short-form series
follow
s the "very hectic and always fabulous lives" of Jones and Robinso
n. Featured guests so far on the show include singer Mya and Hip-Hop chart topper Lil Mama.
L
ook for it before the end of the year.
I AM AFRICA

...Michael Douglas, Mia Farrow and Tim R
obbins have already committed, but no signs just yet of any major Black celebs who
will take part in a special tour

with
the Mizero Troupe (www.mizerochildren.org/

),

a unique group

comprised of
Rwandan children
who will come to the U.S. as cultural ambassadors starting this month. Through dance, song and drumming, the troupe hopes to raise
awareness of the plight of children in Rwanda, as well as raise donations.
Here's hoping the love spreads to include a more diverse group of celeb supporters before this event jumps off.


SONG IN HER HEART

...The movie is still filming, yet we're getting word that the
sound
track to the beloved off-Broadway brand turned Hollywood flick
Mama I Want To Sing
will be hot,
with a particular s
potlight on a track by gospel songwriter Loren McGhee
(
The Clarke Sisters, Michelle Williams)
. And it doesn't stop there.
Top re
cording artists--and the film's stars--s
uch as Ciara and
Patti LaBelle will be featured on the CD. Ben Vereen; Billy Zane; Diddy's ex, Kim Porter; and Hill Harper have all been cast in the Charles Rand
olph-Wright ("Melrose Place," "Falcon's Crest') directed
flick for

Codeblack Entertainment
.
Look and listen for more

Mama

in 2008.
Missing the P
oint

...The Center for The Advancement of Women honored Hollywood vet Suzanne de Passe
and
Emmy Award-winning actress Cicely Tyson, among others earlier this week at
the organization's annual benefit e
vent in New York. The hot topic that night: so
ngs that denigrate women
. But with de Passe and Tyson on hand, seems that a more fitting agenda would have been the lack of diverse roles, exec positions for Black
women and deals for Black female entrepreneurs in media and Hollywood
instead, wouldn't it?
THEY'RE BACK
...Remember the controversial
Eddie Murphy
creation
"
The PJs
" (1999-2000)
about a Black family l
iving in the projects? Well, the thrice-Primetime Emmy winning animated series will pop up on

TV One

's
sched
ule in reruns starting Nov. 5. Considering the uproar the series created the first time around, this addition may just give TV One some more publicity.
According to

Jeff Meier

, TV
One SVP of Programming Strategy and Acquisitions, it was a no-brainer.
"TV One is so excited to be presenting the first off-network run of the 'The PJs' to our viewers," he says. "Our research tells us that African-Amer
ican adults love smart animated programming, and even after a few years off the air, 'The PJs' still feels innovative, fresh and funny, and--it's got Eddie Murphy!" In other TV One news, the little cable network that could just reported it has surpassed the 40 million mark in total household subscribers. Not bad for th
e thre
e-year-old Black-o
wned network.
__________________________________________
Leave it on the "Deal Hotline"

of our parent company office,
310.280.3245
__________________________________________
HIP HOP HOLLYWOOD
THE SPOOK WHO SAT BY THE DOOR

...Everyone inside the Hip-Hop community has suspected for years the U.S. government's possible hand in trying to destroy the genre. Now comes further confirmation of infiltration. Following an L.A. screening last week of the new documentary film Tupac: Assassination - Conspiracy or Revenge?, which will be released on DVD on Oct. 23, ex-

Death Row Records

bodyguard and the
rap artist's would-be protector

Kevin

Hacki
e
, admitted he was an undercover

FBI

agent during his employment at Death Row from 1992 to 1996. Some may also say that in light of the recent arrest
of platinum rap artist
and

American Gangster

star
T.
I.

last week after his own bodyguard turned informant, that it may not be long before we hear the
same admission from him. Maybe it's about time for a sit-down with or regarding the FBI/CIA and Hip Hop. Hip Hop
Summit Action Network, this should be right up your alley

.
You'd think the feds would have bigger fish to fry.
Pushing Weight

...We love it when a Hollywo
od heavyweight and Hip-Hop heavyweight hook up. Outkast's Big Boi has teamed with Will Smith to develop a new television comedy titled "Uncle Rudy." Smith's Overbrook Entertainment will develop the half-hour ser
ies to be pitched to a number of networks. Details are sketchy; but as soon as we learn more, we'll let you k
now.




LOCAL TV COMING TO MOBILE PHONES
Local broadcasters have recently announced that they are planning to beam the stations to cellphones, video iPods, in-car DVD players and other gadgets that would be equipped with TV tuners. The high-quality digital broadcasts likely would start after the transition to digital TV ends in 2009. Currently, Verizon, AT&T and Sprint offer video services on cellphones, at a cost of $10-$25 monthly. In March, Verizon launched a Qualcomm, a service that simulcasts prime-time network shows. The local stations plan to charge less, but consumers would need a video-equipped device that has a chip with a TV tuner.
FILM FESTIVAL SPOTLIGHT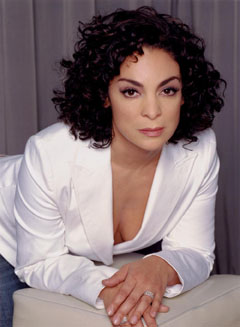 TURKS & CAICOS International FILM FESTIVAL: TALKING WITH JASMINE GUY, Executive Director

This week, Turks & Caicos Prime Minister Michael Misick and his wife, actress

Lisa Raye

, will present

The Turks & Caicos International Film Festival

. An international gathering, the festival distinguishes itself fro
m o
thers with its focus on films that incorporate music as a key component of the final product.

The A List

recently spoke to the festival's executive director, actress/filmmaker

Jasmine Guy

.
How did you get involved with the film festival?
I met

Michael

Misick at the Trumpet Awards in Atlanta, and he began to tell me about his country and how he wanted Black America to be a part of his mission
with Turks & Caicos. So I mentioned to him that I would be interested in
working with him to advance cultural exchange; and our relationship jus
t grew from there…After inviting me and my husband to the island for a visit, he asked if I would be interested in helping him execute the film festival, and, after asking my husband to partner with me, I said yes. I also asked producer Karolyn

Ali

to partner with us to handle some of the logistics connected with the festival's activities.
With so many film festivals are out there, how is Turks & Caicos different?
One of the distinctive things about our festival is that all of our movies are related to music in some way. We really give special attention to ho
w well filmmakers mesh music into cinema.
Who are the special honorees at this year's event?
Our Sal Del Mar Awards this year will honor

Amanda

Bynes with the Rising Star Award,

Mos Def

with the Tour de
Force Award,

Marc

Shaiman with the Composer's Excellence A
ward, and

Mani

Ratnam with the Director's Excellence Award. We will also present awards to films in the Best Film, Best
Director, Best Actor, Best Documentary, Best Song and Best Score ca
tegories.
We also have some great panels this year that include sessions in film financing, distribution and the importance of music in cinema. Some of our special guests this year include: choreographer

Fatima Robinson

, filmmaker

John Si
ngleton

the producers of

El

Cantante producers and industry veteran

Carolyn McDonald
.
What criterion goes into selecting films that make it into the film festival?
We consider a lot of things when making the selections for our films. What's key is the level of technical professionalism applied to each project. The millions of dollars and all the razzle and dazzle can come later; what we're looking for are filmmakers who have a command of the art form...We want to see work that speaks to humanity and also incorporate the "flavor" of the filmmaker. Interesting dialogue is also important. It's important that filmmakers give films "color" that reflect the sensibilities of the filmmaker. Of course, music is a driving theme of the films that we select, so how that is incorporated into a project is very important to us when we make our final selection.
So given your history of success in entertainment, what advice would you like to give to filmmakers?
I would recommend that they work on every aspect of the craft. All of the other things are not as important as making sure that you have characters that fill the screen. If they don't, then you
will lose your audience. It's important to remember that your audience has to buy it; so my advice is to make sure you have a good screenwriter who works with you to make sure that yo
ur characters are developed and connect with the audience.
FESTIVAL FACTS
What

: The Turks & Caicos International Film Festival


When

:
Oct. 16-21
Website

:
www.tciff.com
SPECIAL EVENT COVERAGE
BET H
IP HOP AWARDS: TAKE 2


Here's what happened at the

Second Annual BET Hip Hop
Awards

, which aired
Oct. 17th.
Hosted by

Kat Williams

, the event once ag
ain took over Atlanta and was dominated by top-selling Southern rap acts.

LL Cool J

(

right

)
whispers
to

Common
.


Nelly

(left)

hangs backstage with band member
.
Lil
Wayne
performs.

Princeton
professor/rapper arti
st

Cornel West

gree
ts

KRS-One.
SPOTTED

Lynn Whitfield, Meschach Taylor, Debi Morgan
and Anna Maria Horsford checkin' out the opening performance of Full Moon Blues!,
the new musical starring Blues and Broadway legend Linda Hopkins at Jewel's Room in L.A.
Doctors for Africa (www.usdfa.org) presented its 1st Annual New York Gala Benefi
t Cipriani Wall honoring philanthropists, including Russell Simmons. The evening also featured a live auction and four-course gourmet dinner, with proceeds benefitting USDFA's proposed $70 million Mobile Clinic Initiative. On hand: The Vice President of the Republic of Ghana, H.E. AlhajiAliu Mahama; screenwriter John August (Charlie and the Chocolate Factory, Charlie's Angels: Full Throttle); USDFA founder/CEO Ted Alemayhu; Leighton Meister (co-star of "Gossip Girl"); director Brett Ratner; Shon Gables (host,"Black Enterprise Business Report"); cast members of "Guiding Light": Ricky Paull Goldin, Nicole Forrester, Michelle Ray Smith, Jessica Leccia, Caitlin Zandt, Marcy Rylan; and Rachel Smith (Miss USA2007).