Issue #120
For your free subscription:
OVERSEEN & OVERHEARD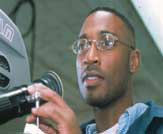 PLAYA HATER?....

Director George Tillman Jr. may be gearing up
for the release next week of Notorious, but his mind is already on his next production. He is producing Phenom, a film directed by David Anspaugh, best known for directing episodic TV. The film stars Vanessa Williams, Chris Brown, and Henry Simmons. In the State Street production, the media discovers a new hotshot

NBA player (Brown) is the illegitimate son of an aging NBA star. While it sounds like a story ripped from the pages Karl Malone's life,
it's not, and that means the acting--and game scenes, are going to have to be riveting to pull a success out of this been there, done that plot

.
A DASH OF SPICE
...It seems TV foodie Rachel Ray is following in the footsteps of her boss, Oprah Winfrey, and is going into producing. She just announced her Watch Entertainment will produce a new show for the Food Network staring Latino cookbook author Daisy Martinez (pictured left). The weekly "Viva Daisy!" will have a six-week run and will be the network's second show to focused on Latino foods, joining Ingrid Hoffman's "Simply Delicioso." It's about time the Food Network spiced things up with a show sure to pull in ratings, considering the number of Latino TV viewers is the fasting growing segment.



DIGITAL DELAY

...The Obama transition team has asked for a delay in the switch to digital. The incoming chairman of the House Energy and Commerce Committee requested that Congress consider a delay "until a plan is in place to minimize the number of consumers who will lose TV signals, particularly by fixing the flaws in the federal coupon program created to offset the cost of this transition." A delay would be perfect timing, as the National Telecommunications & Information Administration just this week announced that it had run out of funding for its program to distribute government subsidies for DTV-to-analog converter boxes. Because of his new applications would have to be put on a waiting list unless the funding cap were raised or the Antideficiency Act (ADA) rule preventing it from spending money it expected to be freed up by expired coupons was waived. The switch in digital was long in coming, you'd think the government would be well prepared. Hopefully a delay is approved to make the transition as easy as possible for consumer, otherwise no one will be tuning in.
DYNAMIC DUO...With their new production, "True Beauty," already declared a TV hit, reps for Tyra Banks and Ashton Kutcher say the two are definitely planning future co-productions. The new ABC reality show features women and men living together in a Los Angeles mansion under the impression that they are competing in a beauty pageant-like reality competition series in which they will be judged solely on their physical beauty. But they are actually being judged on their "inner beauty"--sort of "Punked" meets "Next Top Model." It will be interesting to see what Banks and Kutcher dream up next.
OPRAH'S CANDIDATE

...According to insiders, former MTV president

Christina Norman

is in talks to head up Oprah Winfrey's cable network venture the

Oprah Winfrey Network

(OWN). Great that an African-American female media exec is in the top running, but considering the ratings dive over at MTV during the end of Norman's 17 years with the network, OWN

which is geared to female viewers,
should be a better fit for Norman.
A FIGHTING CHANCE

...Being that the recent slew of mixed martial arts/street fight films have bombed at the box office, it seems Rogue Pictures is taking no chances. The company is creating a major online presence for Fighting, starring Channing Tatum and Terrence Howard. Rogue just entered a promotion deal with MySpace for the April 2009 release. With the MMA world trying to attract African-American fans, there could be some intersting promotional opportunities for Rogue with Fighting.
PIMPS OUT?

...Reports out of Oakland is that city officials are fuming over the new

Hughes Brothers

' project, an

HBO

dramatic series called

"Gentlemen of Leisure

.

"

Members of the Oakland City Council are saying they may not approve a film permit for the production. "Gentlemen

,"
written by

Evan Reilly

("Rescue Me") and
executive produced by Interscope Records Chairman

Jimmy Iovine

and

Polly Anthony

for Interscope's TV unit
,
follows the life of a legendary Oakland pimp. The city is worried about scaring away tourist, while the Hughes are hoping to make a comeback with the gritty tale.
RATING THE WEB?

...If Britain's minister for culture,

Andy Burnham

, has his way, websites will soon receive the same kind of ratings motion pictures currently have. Burnham recently told T

he Daily Telegraph

newspaper he's planning to negotiate with U.S. President-elect

Barack Obama

to draw up new international rules for English language Websites. With Obama having campaigned on net neutrality, it would seem such talks would be unsuccessful. The beauty of the MPAA is that it's self-regulated; something that may not work online, considering the varying Internet restrictions governments currently have.




DR. WHO MYSTERY

...Speaking of goings on over the pond, it seems the

BBC

has withdrawn actor

Paterson Joseph

as the next

Dr. Who

. Joseph would have been the first Black actor to play the long-running role (see The A-List

http://thealistmagzine.blogspot.com/2008/11/bob-johnson-planning-new-tv.html

). After initially tauting Joseph in the role, the BBC just publicized that little-known White actor
Matt Smith
will take on the part. Wanting to get to the bottom of this switcheroo, The A-List contacted the BBC. The only response we could get was "We don't comment on our casting process." With all the publicity the BBC garnered from the speculation of Joseph in the role, the network missed a prime opportunity to diversify and pull in new viewers.
A LITTLE LOVE

...Lifetime gets a little Black love. The network has just inked a deal with African-American romance writer Kimberla Lawson Roby, whose 11 books have sold 1.6 million-plus copies. Lifetime has picked up rights to her latest, One In A Million, due in May. Let's see if Lifetime ups the production value on bringing the novella to the small screen. BET's run of romance movies based on Arabesque Books, left much to be desired.
MEDICAL MATTERS

...TNT is hoping for "Grey's Anatomy" success with its upcoming medical drama, "Time Heals." The network has ordered 10-episode of the series being produced by Jada Pinkett Smith's 100% Women Productions. Smith co-stars with David Julian Hirsh ("Lovebites"), Laura Kenly, Christina Moore ("90210") and Suleka Mathew ("Men in Trees"). Set in a Charlotte, North Carolina hospital, "Time Heals" is co-produced by Sony Picture Television, John Masius Productions and Jamie Tarses' FanFare Productions.
WEST TO BROADWAY?...There's talk of Kayne West heading to Broadway. Inside word is he plans on producing--and possibly--starring in a Hip-Hop musical, which will bring rap to the Great White Way. While the concept of musical featuring all rhyme has been done before both on stage and film, with West involved it is sure to be cutting-edge--for better or worse.


TV ONE TO DEVOTE 24 HOURS TO INAUGURATION

PROGRAMMING
TV One will offer 24 hours of programming devoted to the Inauguration of President Obama, and the activities surrounding this historic occasion. Inauguration Day programming begins Tuesday, January 20, 2009 at 7 AM (ET), and will include tributes to Obama as well as Dr. Martin Luther King; interviews with the President-elect Obama and Michelle Obama; two, original hour-long documentaries; live coverage; and reports from the multiple balls and high-profile inaugural events around Washington.
MOVIE REVIEW
The Garden
Very few documentaries address issues that are timeless. The Garden is one of those films which take you deep into a story and situation that affects people globally although its set in a bustling metropolis in America. Directed by Scott Hamilton Kennedy, the film chronicles the entangled and disturbing story of Los Angeles' South Central Farm. Created from the ashes of the L.A. riots in 1992, the South Central Farm came to be the largest urban farm in the United States. In 2003, the farmer's found themselves struggling against the city's backroom deals, and exposes the underlying issues of money, power, poverty and racial discord. The Garden is a great metaphoric documentary on the never ending crisis of the haves and have nots, of the wars and battles that are happening right now over land and land rights. The story sends chills down your spine; you will empathize and cry with those in the film for their right just to live a simple life. There is no Hollywood happy ending to The Garden, but there is an awareness that comes from watching the film that we are not powerless and that collectively we can make a difference, even in the face of adversity. Rating: The A-List
All the stars were out for the NYC premiere of Notorious, including the one
o
f film's producers
Sean Combs (Left) and the film's stars Jamal 'Gravy" Woolard (who plays Big) and Naturi (who portrays Lil Kim)
Taraji Henson shares a laugh with her Curious
Case of Benjamin Buttons co-star, Brad Pitt, on the red carpet at the Critics Choice Awards.